| | | |
| --- | --- | --- |
| Pricing includes all materials.  | +1,000 practice exam questions.    | Commitment required to study! |
COURSE DESCRIPTION
The Level 2 exam changed effective January 2023.  The new AIC Level 2  book is integrated, by chapter with practice questions and explanations included.
We are so proud and excited to introduce this new Level 2 online course using AIC  materials with integrated videos and exam questions!
RESULTS of exam writers in January 2023 using this new course is 100% success rate on first attempts of AIC Exam! 
________________________________________________________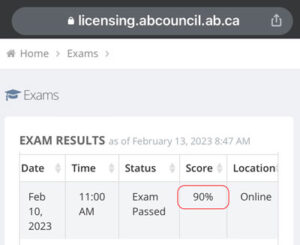 Thank you so much Jane!  I achieved 90% on my first attempt of Level 2 thanks to you and the PDTC Level 2 course!
Fabulous course – I owe you so much. 
Thank you!
Lynetta H.
________________________________________________________
This content matches the content of the changing AIC Exams in 2023 and the AIC curriculum design document.  Pricing includes the NEW LEVEL 2 AIC book:
~   Each chapter is downloadable with video-lessons to expedite your learning . Perfect for a two-monitor set up, or for printing!
~   The price includes a downloadable, chaptered, PDF version of the the new AIC Level 2 study book, material and videos plus over 800 practice questions!  Simply download the chapter and follow along with the videos and practice questions
WHY 90 days access?
We update the content to match changing content on AIC exams!  We want you to challenge the exam immediately after studying.
Level 2 people tend to know their own company wordings.  Learn these, keep them fresh in your mind, write the exam.
3 months study time is plenty if you dedicate yourself to your own success.
This course is fully online, available 24 hours per day, 7 days per week.  We understand that many Level 2 personnel are expected to complete this on their own time.  90 days gives tons of time to complete the curriculum.
RESULTS:
Level 2 is a challenging exam.  This exam is extremely complex and very heavily tests r management and concepts that will really stretch your learnings.
You need to study these materials, and answer the questions the way the IBC wordings are written.  Take this course, it has everything you need to ensure  your own success.
SEMINAR CONTENT
Includes over 800 practice questions with interactive instruction
Price includes all source materials, including a downloadable, chaptered PDF version of the new AIC book, wordings, videos and practice exams.  EVERYTHING you need!
24/7 access to videos, lessons, wordings and practice exams, including the new book
Includes over 1000 practice exam questions and examples used on the AIC exam and analysis of the correct answer with rationale
Be successful on your first attempt at the exam and save $50 per time you write
Course content is designed to match the AIC Curriculum Design document and exam content
Commercial insurance is very heavily tested, and the older IBC wordings, or harder market wordings are used.  Download these for free!
Earn 22.5 CE Credits.  Advance your career
NEW online Level 2 content using the new AIC  materials and excited to introduce this redesigned course!
---
---
Earn 22.5 CE Credits  

Level 2 takes commitment to your own success
Hi Jane,  I passed this time!  84%!  I knew I should have come to you in the first place.  I scored 90+% on your Level 2 practice exams, so between the practice exams, all the materials you supply and your ability to help others understand the material, your students are well prepared!  All of my staff will come your way for Levels 1&2 and others I meet will be referred for sure!  I can't wait for help with Level 3.  Thanks again,
Carolin Charron – The Co-operators  
---
I started using PDTC for training in 2017, both for myself and for my staff. I took the Level 1 licensing course for my third attempt at level I and passed, so using her for level II was a no-brainer, passing on the first try!  Jane is a great facilitator in that she makes sure you have an understanding of the material before moving on to the next, provides real-life scenarios which are easier to relate to and tells you exactly what you need to study. If you follow her instructions and put in the time, you will pass! I will continue to support Jane at PDTC Inc, and refer everyone I can. Thank you Jane for all the support and extra work you put into making sure everyone has what they need in order to be successful, it's much appreciated!

Thanks Jane 🙂                                                                                                                             Krystal L.  
---
I took a different course previously for my general level 2 and was unsuccessful. The company I work for recommends PDTC,  so I decided to try it.  I wrote my exam today and thanks to your course I was able to pass the exam, and I actually found that I KNEW THE ANSWERS, which helped ease my nerves as I went along.  I found your training videos so easy to understand. The way you explain things and show them on the board and in charts, as well as using examples, makes the material easy to understand and remember. The online training we had with you helped to "hit it home" with our conference calls where we went over things really helped to further our training.  I cannot believe how much information you supplied us with and the extra knowledge we need to succeed. I would recommend your courses to anyone, and I will recommend your courses to everyone I know that needs training that goes above and beyond. Thank you so much Jane and PDTC!  I achieved 81% on Level 2                                                                                                                                                                                            Sonia,  The Cooperators  
---
Thank you for your expertise on knowing exactly what is on Level 2.  The exam is very tough, but exactly what you taught us.  Your training seminar is designed to assist us in advancing our careers.  There were absolutely no surprises for either of us.  Everything you said would be on the exam was.  Thank you so much for all the research you do to ensure your student's success!  We appreciate your attention to detail and your leading us in the right direction.                                                                             Jay,  Edmonton
I recently took Level 2 with PDTC Inc with Jane as the instructor.   Everything Jane spoke of was on the exam.  I passed with 77% on my first attempt.  If she stresses it, listen, make notes and study.  It will be on your exam!  It was a lot of information to absorb, and worth every penny.   Thank you Jane.
                                                                                              Brooke, Brokerlink 
I used PDTC when I wrote my Level 1 and passed, so naturally, I signed up for the Level 2 course. I had been warned that it was a really tough exam, which it was. But with Jane's thoroughness and excellent content, I passed my first attempt. Thanks Jane!     
                                                                                        Talitha, Calgary
Justin

Great Content

Jane's review of the course material helped make the the harder concepts much easier to understand. Passed the Gen 2 with a 90% and I would greatly attribute it Jane's chapter-by-chapter review of the new book. Thanks for everything!

Kevin

Well Prepared

I started the level 2 course shortly after I completed the level 1 course. This course was an excellent review of the concepts and it gave me a further understanding of the topics covered. I felt I could apply the concepts learned to the questions asked on the exam with confidence. Thanks for everything Jane!