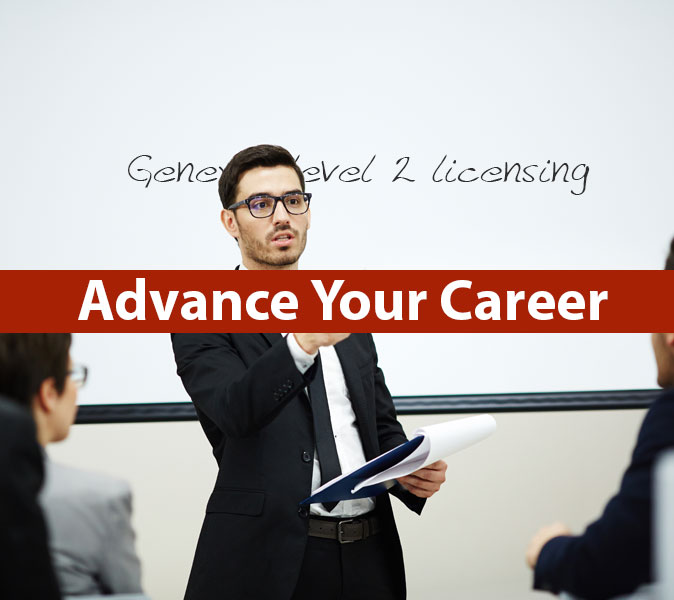 61 students

44 lessons
5 quizzes
30 day duration
Save $400.00

Pricing includes all materials   

+800 practice questions.   

Commitment required to study!
COURSE DESCRIPTION
With COVID-19 affecting our worlds, we transitioned smoothly into offering Level 2 via video conference meetings, with learn at your own pace interactive video assignments. 
We specifically instruct to exam content, and use policy wordings, as well as materials specifically used to write the exam questions.  Level 2 is very tough, and we highly recommend a course.  This seminar uses course study materials and IBC wordings as tested on the exam.  The package is sent to you including binder contents and pre-work.  We then arrange video-conference sessions as often as the group demands.  Keeping the group size to 6 per session, it gives us the opportunity to teach a lesson, then provide practice questions to allow you to solidify your learning.
SUCCESSES
The key to your success is our classroom delivery style, which we have transitioned to video sessions having classroom seminars professionally video recorded.  We don't read to you, we engage you in learning!  We also bring lessons to life and answer your questions as we go through the video-conference meet-ups.  We use Google Meet as everyone has access to it, and it is a very stable platform.
There is significant pre-work and study time required as Level 2 is a challenging exam.  We just had six participants through, all achieving over 80% on Level 2 exam.  They committed to their studies.
SEMINAR CONTENT
Includes over 800 practice questions with interactive instruction
Includes all source materials, including a binder and study guide
Information packed practical training starting from basics to advanced testing examples
Includes exam questions and examples used on AIC exam and analysis of the correct answer with rationale
Be successful on your first attempt of the exam and save $50 per time you write
Course content is designed to match AIC Curriculum Design document and exam content
Practical assignments at the end of every session
Commercial insurance is very heavily tested, and the older IBC wordings, or harder market wordings
Earn 22.5 CE Credits.  Advance your career
---
---
Level 2 session starts February 16, 2021.
---
Our January 2021 group meets via video-conference:   Tuesday, Wednesday and Friday mornings from 8:30 am til 10:50 am commencing January 12th  for 3 weeks, with the goal of challenging Level 2 exam very late January or early February.
The February sessions => if enough interest, we will hold two from mid February til early March.
1- 8:30 am til 11:oo a.m. three days per week
2- late afternoons commencing mid February
——————————————————————————————————————————————————————
 We work with the registrants to arrange appropriate video-conference meet dates. 
The course includes online video materials, practice exams and video-conference meetings . This allows time to study between new lessons.
——————————————————————————————————————————————————————————–
When COVID allows, live seminars are held regularly in Edmonton and Calgary, and as demand requires in Grande Prairie, Red Deer and Lethbridge.  
Hi Jane,  I passed this time!  84% !  I knew I should have come to you in the first place.  I scored 90+% on your Level 2 practice exams, so between the practice exams, all the materials you supply and your ability to help others understand the material, your students are well prepared!  All of my staff will come your way for Level 1&2 and others I meet will be referred for sure!  I can't wait for help with Level 3.  Thanks again,
Carolin Charron – The Co-operators  
---
I started using PDTC for training in 2017, both for myself, and for my staff. I took Level 1 licensing course for my third attempt at level I and passed, so using her for level II was a no brainer, passing on first try!  Jane is a great facilitator in that she makes sure you have an understanding of the material before moving on to the next, provides real life scenarios which are easier to relate to and tells you exactly what you need to study. If you follow her instructions and put in the time, you will pass! I will continue to support Jane at PDTC Inc, and refer everyone I can. Thank you Jane for all the support  and extra work you put in in making sure everyone has what they need in order to be successful, it's much appreciated!

Thanks Jane 🙂

Krystal L.  
---
I was desperately looking for answers to passing Level 2. I tried other "tutor" types of training and other providers but still couldn't pass so I turned to Jane Davis for the solution. Thanks to Jane and PDTC, I finally conquered Level 2 and am able to carry on with my career. I have staff members that have used her in the past with success and I will continue to send all future prospects to her courses. Out of the 4 of us in my office that have taken Jane's courses, we all passed on our first attempts, Levels 1 and 2.
Thank you for everything Jane, you certainly changed my life!  
 James Cummings, Agency Owner  
---
Thank you for your expertise on knowing exactly what is on Level 2.  The exam is very tough, but exactly what you taught us.  Your training seminar is  designed to assist us in advancing our careers.  There were absolutely no surprises  for either of us.  Everything you said would be on the exam was.  Thank you so much for all the research you do to ensure your student's successes!  We appreciate your attention to detail and leading us in the right direction.
Jay and Amanda,  Brokerlink, Edmonton  
4.88 average based on 8 ratings
Reviews
Jane is very thorough with her teaching. She uses great examples to help understand the content. The online course is great because you have time between the classes to study and review. Trust Jane, she knows her stuff!

Jane's course is spot on with what you need to know for Level 2. The examples that she provides really helps you learn the material and the videos provided are excellent .

If you are looking to take a course to hep you pass Level 2 exam, this is the only course you will need! Jane Davis is hands-down the best in the industry and knows what it takes. Thank you Jane for all of your knowledge and also your kind words of encouragement. I couldn't have done this without you. Thank you!

Jane's courses not only gave me a better understanding of the insurance industry itself, but she also teaches her students how to write the test and understand the vocabulary used by the AIC. She uses multiple real life examples to help us wrap our head around coverage's and settlements, and has the patience to re-explain things to better suit the people that she is teaching. I had previously taken a level 2 course through another provider, and when I went to write my test I wasn't nearly as prepared as I had thought I was. Once I took Jane's course I had many "Aha!" moments and had way more confidence when I was sitting in that exam room. Thank you Jane, for helping me finally get my level 2 after months of studying!

Taking the L2 course with Jane gave me the knowledge needed to pass but more importantly the confidence when I answered the questions. I can't say enough good things about Jane's knowledge and how she can explain things. Thank you Jane.

Loading...