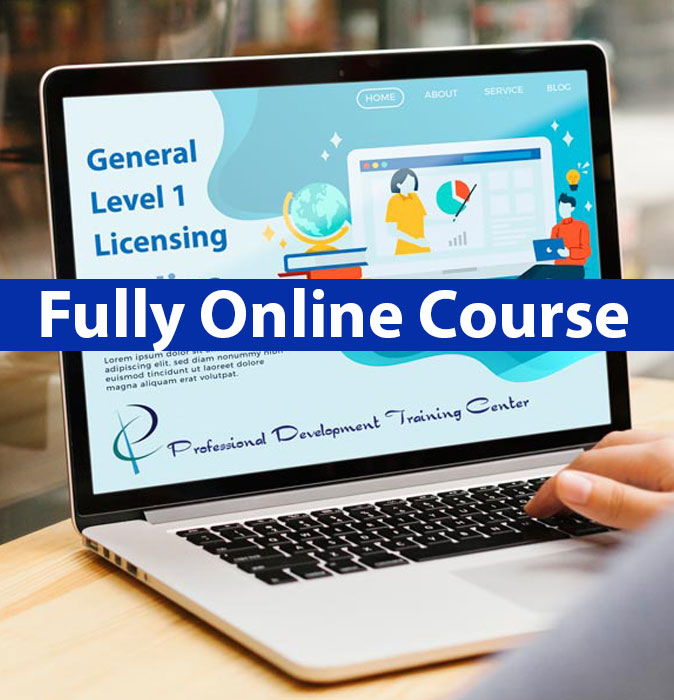 311 students

102 lessons
14 quizzes
30 day duration
Learn-at-your-pace access up to 30 days.
The average participants take to complete this course is 20 days.
COURSE DESCRIPTION
NEW, this course is seeing rave reviews! This dynamic and interactive online course is complete with bite sized videos. You will be engaged in your own learning.  No  additional books are required.  Our Level 1 course prepare you for passing Alberta Insurance Council Level 1 exam on your first attempt of the exam!
The videos take you through a live session and are so entertaining you will want to keep watching!  All you need is online capability and occasional use of a printer.
View sample videos under Curriculum tab.
CERTIFICATION
Our success rates have consistently been 10 to 15% higher than the other training providers.  Professional Development Training Center Inc. is certified by Alberta Insurance Council as a GLQP training provider.    The key is our engaging delivery style.  We make learning at your own pace fun and energetic.
SEMINAR CONTENT
Welcome to the Industry!  No previous experience required.
Over 800 practice questions with interactive instruction and feedback
Focus on concepts and technical information to successfully pass Level 1 examination
Start with the basics and finish with advanced testing techniques
Course content designed to match Alberta Insurance Council Curriculum Design and exam content
Excellent exam preparation with practice questions throughout the lessons
Your online certification exam is included in course fee
Earn 30 Continuing Education credits and shorten your learning curve into the industry
"I have struggled with passing this exam, I tried other online courses to help me pass but each time I was unsuccessful. Then I was referred to attend Jane's course through PDTC as her success rate for passing this exam was very high. I enrolled in the course, and it was the best thing I ever did. Jane's explanations, stories, diagrams were exactly what I needed to understand. I learned so much and I passed the exam, and I owe it all to this course. I would strongly recommend her course to everyone". 
Juanita, Allstate
"I have nothing but rave reviews!  I hate online webinars, and I am a procrastinator. I knew nothing about insurance, and with three children, I could not attend a classroom session.  This was the best option for me, and I am so proud, I passed the exam on my first attempt!  Thank you, Jane and Professional Development Training Center.  I will miss your videos in my life, but will revisit for Level 2 for sure!". 
Kandice C.
Price includes GST.     We added 11 new video lessons and extra practice exam questions in October 2020. 
Start your new career ~  enroll today!
Introduction to Property Insurance

Fundamentals of Property Insurance

Advanced Property Insurance

Liability of All Property Policies

Co-insurance & Re-Insurance

Advanced Commercial Knowledge

Commercial General Liability Policy

Commercial Insurance Progress Quiz

Introduction to Automobile Insurance

Section A, Third Party Liability

Section B, Accident Benefits

Section C, Loss of or Damage to the Insured Automobile

Section C, Exclusions and Additional Agreements of Insurer

General Provisions, Definitions and Exclusions

Excluded Uses by the Insured and Statutory Conditions

Other policy types: SPF#2, SPF#4, SPF#6

Endorsements to the SPF #1

Errors & Omissions Insurance

Industry Organizations – Education and Advocacy

Brokers Use of Trust Funds

Insurance Industry Knowledge

Travel Insurance & Disability Insurance

Full Practice Exam #1 - Printable with answer key

Full Practice Exam #2 - Online

Level 1 Qualification Exam - Online

Closing Statement - Before You Write
5.00 average based on 32 ratings
Reviews
I have taken many online courses in my life, and I can confidently say that Jane has mastered the utilization of this medium! The videos and practice questions succinctly prepare you for the level 1 exam--everything covered is relevant and important to know. Jane is very professional, well spoken, and goes at a pace that is easy to follow and flows very well. I cannot recommend this course enough, and when I need to prepare for any other insurance related exams, I'll know who to go to.

Jane's course was referred to me by a coworker, everything you need. It was great and passed the first time!

I previously attempted the General Level 1 exam two times with 2 DIFFERENT providers, failing both times. Enter Jane - her knowledge of the industry is exemplary. Her course is interesting and easy to follow along with. She gave me back the confidence that I lost. Saying 'thank you' doesn't seem adequate. I wish I found Jane sooner!!!

This course is the best explanation I have ever got for all the topics. And all the charts are amazing and so easy to understand. The real life examples Jane gives on everything just makes it better. I wish I knew about this course before! I highly recommend it to everyone. I have been working in the Insurance Industry for a little bit but the knowledge I gained here is amazing. Now I understand Insurance much more and it has Increased my interest in my job. More knowledge means more confidence. It's the perfect course to help you study for the exam. Thank you Jane, you are the best!!

From having no idea what the insurance industry was prior to taking Janes course to passing my level 1 exam on the first time - all I can do is thank Jane for this. Her course is set out in a great format and gave me all the knowledge I needed to succeed on the exam. Her videos were informative, engaging and gave real life examples that helped me not only memorize the material but actually understand it and apply it in all scenarios. Thanks again Jane! :)

Loading...